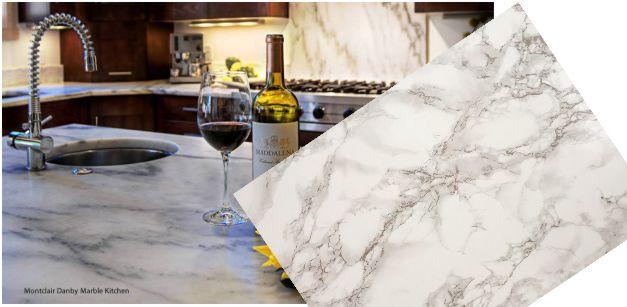 Marble is an excellent choice for designing an appropriate kitchen for your historic home
by Darcy Mertz Krewson.
A primary goal in historic preservation is to retain and restore the historic elements of a building while providing a comfortable space for those living in and using it today (unless of course you are restoring a museum). The kitchen is one of those areas where historic and modern often collide and the wrong style kitchen can destroy the historic integrity of your beloved home. However, selecting the right materials for the period and style of a home can enhance it while maintaining the historic character and feel of a cherished dwelling.
Marble has been used for centuries.
For hundreds of years, marble has been the material of choice for the kitchen in Europe. Quarried in Carrara Italy since 400ad and for over 100 years here in the U.S., marble has been and continues to be used throughout the world. As such an ancient product, marble is certainly a much more appropriate choice for use in the kitchen of historic homes than many other materials in common use today. However, many believe that marble cannot be used in the kitchen, that it is too soft and requires a lot of maintenance – but that is inaccurate. It is true that not all marbles are good for countertops, but not all granite is either. While many marbles are softer than most granite, hardness alone should not be the determining factor in countertop material selection. All types of natural stone have different absorption rates, hardness, and abrasion resistance ratings which determines their suitability for a particular application. Vermont Danby Marble, as an example, has a very low absorption rate of less than .10% which is lower than many types of granite and therefore makes an excellent countertop choice. It is the absorption rate of the material that is probably the most important factor when selecting a natural stone for kitchens and baths – historic or not.
Proper maintenance is important.
When it comes to a marble countertop, a honed surface is a probably a better option than polished because it does not show as many scratches as quickly and most damage to the surface can be fixed in place. Basically anything that can be done to marble can be undone, often without the use special tools. Most scratches can be removed with the help of a cleaning pad (like those made by 3M) and some cleanser (such as Comet) made into a poultice that will remove most stains. On the other hand, polished marble does require special equipment and a knowledgeable operator to return the surface to a high gloss shine. But be aware, marble will etch if not cared for properly. But the amount of care is not really anymore than what is required for granite. As with all stone, it is recommend that marble countertops be sealed when installed and resealed every 6 months. Cleaning up spills quickly will minimize staining and wiping with a damp cloth will keep the surface clean. Over time, marble develops a beautiful and desirable patina giving it that well loved look, the look that it has been used for generations. What could be better for a historic home! However, if this patina is not desirable, honed marble can be resurfaced in place or it can be professionally buffed or polished periodically to maintain that just installed look.
Enhance your historic home.
With enduring beauty and strength, marble makes a durable and elegant countertop that will last a long time with proper maintenance. It is an appropriate material for historic homes and can be an asset in preserving the desired look and feel of a space. With good research, creativity, an eye for details, and a knowledge of – and passion for – historic preservation, a well designed kitchen can complement and enhance a historic home while providing the comfort and ease of use desired.
Do-No-Harm to Historic Buildings – Do not destroy anything and preserve as much as possible. Be a steward of our historic buildings and show a deep level of respect for them.