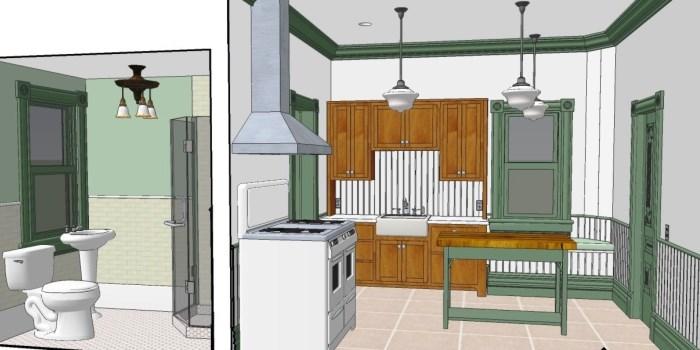 Designing a historically appropriate kitchen for your pre-1940s home
by Darcy Mertz Krewson.
You have purchased a magnificent pre-1940s historic home that you love. You meticulously restore every detail: repairing and restoring the original mouldings and millwork, refinishing the original wood floors, repairing and caulking the original windows (no replacement windows for this place! Good choice!), insulating, repairing plasterwork, selecting an original color scheme and giving your home an authentic exterior paint job. Now it is time for the kitchen. You are not sure what you want, but you do know that you don't want to feel like you are living in a museum or with a kitchen from the dark ages. So, you pull out the design magazines and start selecting your favorites. NO – STOP!! Don't believe all the hype! Contrary to popular belief, you can have a modern, convenient kitchen and still have one that is appropriate for your historic home – and you won't find that in those home decorating magazines.
Avoid the trends
Think about it, that olive green and gold kitchen from the 1970s that looks so hideous now was once state-of –the-art and the height of fashion. And the 2012 trends will look just as dreadful and outdated in a few years too. Many of today's trends, such as an open floor plan, granite and stainless steel everything, not only diminish the historic integrity of a home (something of great importance to historic enthusiasts), but are not necessarily as desirable as one may be lead to believe. For example, stainless steel and granite are already looking dated, and high-end homeowners are looking for different materials to give their kitchens a fresh and unique look. Not to mention that, with the environment and being 'green' so much in the forefront, many of the products used to clean and maintain stainless steel and granite are some of the most environmentally unfriendly around. And then there is the open floor plan concept that is all the rage today. What does it give you? Higher heating bills because you can no longer close off unused rooms; increased noise levels due to the fact that there are minimal sound absorbing surfaces to buffer the noise from that TV, blender or screaming child; old cooking smells filling the entire area for hours or days; and don't forget that you had better keep your kitchen spotless because everyone that comes to your front door can now see those dishes stacked up in the sink. It is simply not the plan for everyone. Paint or wallpaper is one thing, but when it comes to changing or removing walls real and lasting damage can be done to a historic property very quickly. Besides, it is possible to have a lovely open feeling without completely destroying historic integrity if you know how.
The classics always last
Instead of looking to what is popular, think classic! A kitchen designed with classic detailing and materials, one designed to complement the style of the home, will outlast the latest trends and be an asset to the home instead of a negative.
The first place from which to draw inspiration is the detail and architecture already a part of your historic home. Is there original built-in cabinetry or a butler's pantry with perhaps glass fronts that could be the basis for the style of the kitchen cabinets? What about original crown moulding or dental moulding that could be incorporated into the space? What architectural style is the house – Victorian, Arts and Crafts, Art Deco or Colonial? Each era has a unique style that can be incorporated into the kitchen design to make it look like it "fits" the house instead of as if someone threw a dart at a cluster of home decorating magazine and whichever kitchen it hit was the one built. Enduring materials such as marble are a smart choice. Marble has been used in kitchens for centuries (quarried in Carrara Italy since 400AD) and is great for kitchens. Even Martha Stewart has been quoted as saying she has marble countertops in three kitchens. However, you still want to be sure that marble is the right choice for the architectural style your home (more on that to come later). As for granite, it only began being used in the 1970s after the advent of the granite gangsaw and so is not appropriate for historic kitchens.
Don't know where to start? A professional interior or kitchen designer may be able to help with your design challenges but be sure to look for one with a specialty in and passion for historic preservation. Otherwise you may end up with a kitchen in your rare and exceptional home that looks like it was designed for the new housing project across town.
Do-No-Harm to Historic Buildings – Do not destroy anything and preserve as much as possible. Be a steward of our historic buildings and show a deep level of respect for them.